You can make AMAZING homemade pizza with store bought crust without the hassle of making your own dough. here are my best tips and techniques for making delicious pizza at home with store bought dough, plus lots of topping ideas.
We love all types of pizza and flatbreads in this house, we don't discriminate. We've made naan pizza, 2-ingredient dough pizza, and lots of from-scratch pizza doughs. But my favorite type of dough to use for homemade pizza is store-bought pizza dough.
With store-bought pizza dough you get the legit, authentic yeast dough that is so good for pizzas and flatbreads, without the hassle for making your own dough and watching it rise for hours.
You get that perfect crispy/chewy texture with bubbles in all the right places. One bite and you'll be thinking: "This is like a $15 fancy restaurant flatbread pizza!"
Related recipe: Chicken Satay Flatbread Pizza
Where to buy pizza dough
→ Your grocery store! My local grocery chain sells balls of refrigerated pizza dough in the area where they sell take-and-bake pizzas. Sometimes stores also sell frozen balls of dough that need to be thawed. Other stores sell it in the refrigerated section next to the shredded cheese.
→ Your favorite pizza place! Check with a local pizza shop to see if they sell balls of dough. You may be able to buy several at once and freeze some for later.
Related recipe: BBQ Chicken Pizza
How to store bought pizza dough
Keep thawed/refrigerated dough in the refrigerator for several days, up to a week or more depending on when it was made.
You can also freeze the dough and let it thaw, either in the fridge or on the counter, before you plan to use it. See tips below for rolling out pizza dough (it should be almost at room temperature, not cold for easier rolling).
Related recipe: Stromboli Roll-ups with Store-Bought Pizza Dough
How to make homemade pizza with store bought crust
I am proud to say that I have mastered the delicious semi-homemade pizza. Here are all my tips that I've written down over the last few months of pizza trial and error.
1) Use pizza dough that's almost past its prime
Maybe this is just me, but I find dough that is close to its expiration date to be the BEST. Maybe it's that the yeast had more time to do its thing and develop a yeasty flavor, I'm not sure.
I recommend purposefully waiting until the expiration date to use the dough. Or if you bought the dough from a pizza place and it doesn't have an expiration date, refrigerate it for up to a week before using it.
2) Let the dough sit out at room temperature for 30 minutes or so before rolling.
When it warms up, it's a lot easier to roll out smoothly.
Related recipe: Pepperoni Pizza Pinwheels
How to roll out store-bought pizza dough
Part of making amazing pizza at home is practicing rolling out the dough. It might be tricky the first few times, but these tips help.
3) Use flour to prevent sticking
Before rolling out the dough, spread a thin layer of flour on your cutting board or rolling surface. This will keep the dough from sticking to the board, the rolling pin, and to your hands.
4) Roll it thin if you like a crispy crust.
If you love a super crispy crust on your pizza, take the time to roll it out as thinly as possible without breaking it.
This might seem obvious, but if you're new to rolling out dough, you might think "that's good enough" and end up with a thicker crust.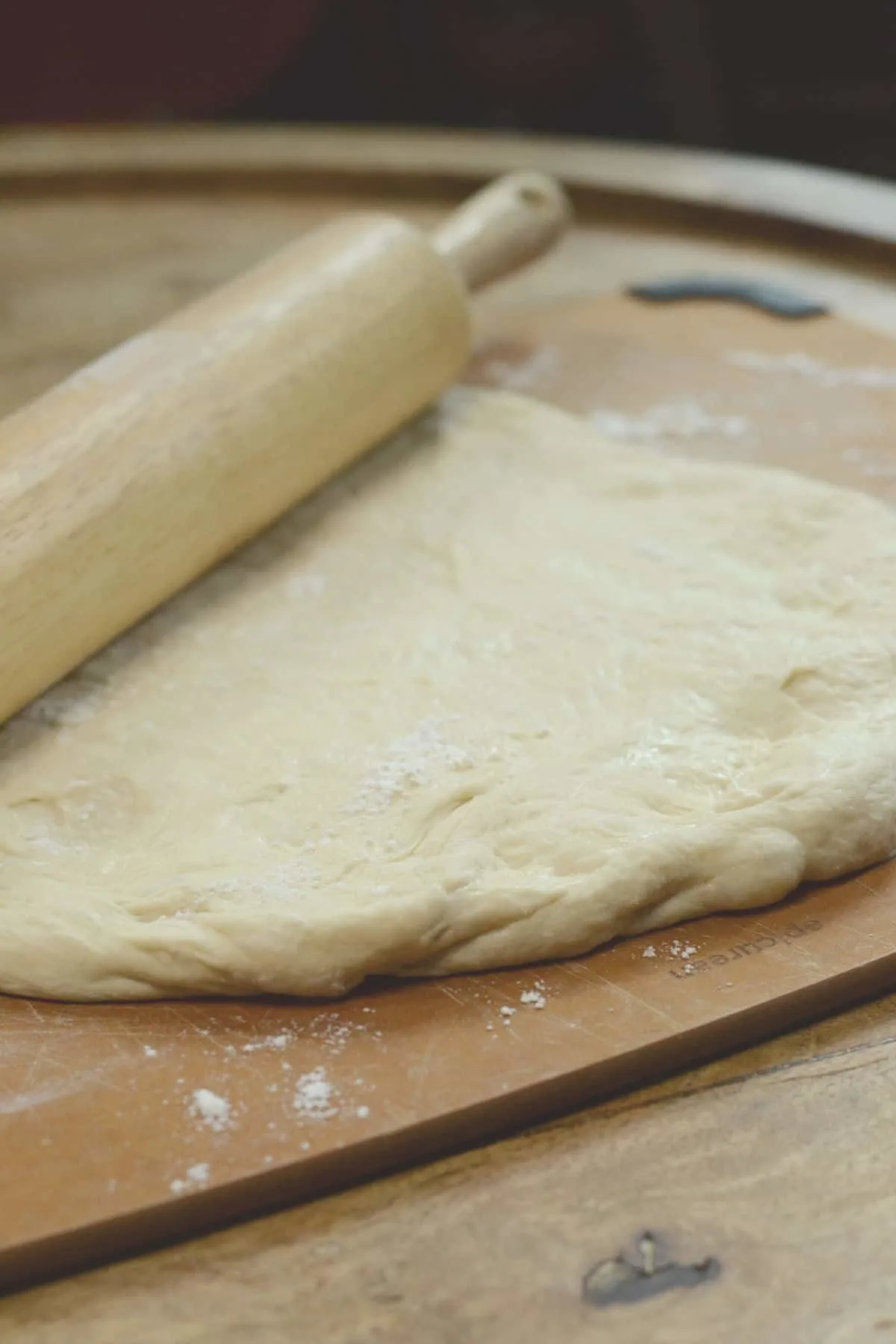 5) Roll your pizza dough on parchment paper
If you want to roll out really thin dough, do it on parchment paper, so you can transfer the dough from your countertop to the cookie sheet or pizza stone without ripping it - just slide it on the parchment paper over into the sheet.
6) Don't use a ton of sauce
The pizzas I've made have either had a thin layer of pizza sauce as a base, some pesto, or just a little olive oil. Too much sauce makes it hard to get the bottom crust really crisp.
7) Use olive oil
Spread a thin layer of olive oil on the baking sheet before pre-baking the dough, and also spread a small amount onto the edges of the crust before baking.
8) Pre-bake the crust for 3-4 minutes before adding the toppings
This helps seal the dough so that the toppings don't make it soggy.
I don't have any sort of fancy pizza pan or baking stone, so I just used a regular old cookie sheet. You can top your pizza with whatever you'd like, or have everybody make their own.
9) Get the oven HOT
For best results, set your oven to 475-500 degrees Fahrenheit (you may need to experiment to find the oven temperature that works best for your particular oven). A hot oven is key to getting a crispy crust, but you don't want it to burn.
10) Experiment with toppings
Part of the fun of making pizza at home is using flavor combinations and ingredients you wouldn't find on a traditional restaurant pizza.
Unique pizza topping ideas:
My current favorite is a combination of Brie, Sage, and Prosciutto. If you've never tried these ingredients together, you're in for a treat!
BBQ Chicken Pizza: BBQ sauce, cooked chicken, sliced red onion, cilantro, and cheese
I love making a "Salad Pizza" by topping cooked pizza with lightly dressed arugula.
Top your pizza with roasted garlicky broccoli.
Use pesto in place of sauce and top with chicken, fresh tomato, and buffalo mozzarella, like in this Pesto Pizza with Fresh Tomatoes.
If you love spice, try a Mouth on Fire pizza topped with spicy marinara, spicy Italian sausage, sliced jalapenos, and red pepper flakes.
Use leftover chicken tikka masala to make an Indian-style pizza.
Since I've discovered the trick to getting that perfect crust, we almost always make pizza at home instead of ordering out. Try this out, and come back to let me know what you think!