I think we can all agree that personalized items make great gifts. People feel special when they receive something thoughtful that was made or purchased just for them. But with initialed and monogrammed items EVERYWHERE these days, it can be hard to find a personalized gift that's unique and a little unexpected.
I'm here to help with that.
For this gift guide, I've rounded up some of my favorite personalized gift ideas that would be perfect for any occasion: Christmas, a birthday, an anniversary, a "thank you" to someone deserving, graduation, or an exciting milestone.
While I'll showcase a few different websites and stores in these posts, my favorite one-stop shopping site for personalized gifts is Etsy, an online marketplace where individuals sell handcrafted and customized items.
I absolutely love Etsy, not only because I can find amazing things there, but because I like to support independent artisans and businesses whenever possible. It's the first place I go when I want to find a gift that's special and a little bit "outside the gift box."
Disclaimer: This post contains some affiliate links, which means I will receive a small commission for purchases made through certain links. All opinions and endorsements are 100% my own. I worked hard to pick out the best, awesomest (and, in some cases, weirdest) stuff I could find, and many of these items are things I've gifted personally.
Oh, and because I had so many awesome things to share, I had to split this up into two separate parts. You can find Part 2 of this gift guide here or via the link at the end of the post.
Phew...now that that's all out of the way, let's get started!
1) UNCONVENTIONAL MONOGRAMMED AND ENGRAVABLE JEWELRY
Customized jewelry is nothing new, but I've recently come across some really unique, fun and affordable custom jewelry ideas that kick things up a notch beyond the standard initial charms and engraved names.
To commemorate my 15th anniversary, I ordered this engravable bar necklace from Stella & Dot.
Instead of just having it engraved with my anniversary date, I had it engraved it with the GPS coordinates of the location where my husband and I met. I love that it's a little different, but is also delicate and subtle enough to wear as an everyday piece. Stella and Dot sells engravable bracelets as well. And if you don't already have a Stella & Dot stylist in your life, I highly recommend my friend Anne).
If you want to buy personalized jewelry for someone who likes to make a statement, Bauble Bar offers a ton of unique necklaces and bracelets, including monogram, nameplate, and cursive styles that can be customized in different sizes, colors, and fonts.
Bauble Bar's custom jewelry is really fun and affordable, and their monogram collection ranges from small, delicate metallics to large, bright acrylics. The acrylic necklaces and bracelets also make great gifts for kids and teens.
2) CUSTOM ITEMS WITH FAVORITE QUOTES, QUIPS & INSIDE JOKES
When you hear "personalized mug," you probably think of one that says "World's Greatest Grandma" or "A+ teacher." That's not the kind of mug I'm talking about.
A few months ago, Glennon Melton of Momastery.com posted that her parents have been creating and collecting custom mugs featuring funny and cute quotes from their grandchildren.
Isn't that one of the best ideas you ever heard?
It gave me the idea to order some mugs for my parents featuring some of my family's strange inside jokes from over the years. (Sorry — I can't share the actual mugs I bought or I'd embarrass my whole family ruin the surprise.)
There are several online stores where you can create your own personalized products, but my favorite is Zazzle. You can fully design all aspects of the items yourself, or you can just add your text or image to one of the zillion designs they already offer. When adding text, Zazzle gives you a ton of different fonts and colors to choose from, so you can really have fun making the design your own.
To peruse all of the customizable items available, just go to the Zazzle website and click on the "Create" tab at the top. And if you need inspiration for your creation, Zazzle has a great collection of pre-made designs that are lots of fun to peruse.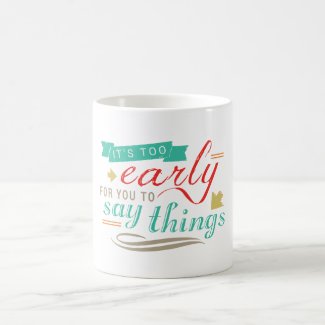 PS: Someone might want to order me a custom phone case that says "Where's my phone?" because I utter that phrase at least 20 times a day. For real.
3) STATE & CITY ART
My husband and I have lived in four different states over the course of our marriage. We moved to Texas right around the time of our anniversary, and I wanted to come up with something special to put in our home that would represent the history and locales we've shared together.
Since we had a lot of empty wall space to fill in our living room, I got an idea to do a row of prints featuring each of the states we've lived in so far. I found lots of amazing options on Etsy, but I ended up choosing Paper Finch Design to create this:
I loved that could choose the exact colors I wanted to complement our decor. I was also able to choose custom symbols to represent the cities, as well as the phrases that are underneath each state name.
There are SO many awesome ideas for state and city art on Etsy, I couldn't possibly post them are here, but these are some of my other favorites:
If you go to Etsy and search for "custom state art" or type in the name of your state(s) and cities, you will find all sorts of amazing options for artwork that's beautiful and meaningful. Disclaimer: Be prepared to lose hours of your life looking through it all.
4) CUSTOM SUBWAY SIGNS
Lots of home decor stores sell pre-made subway-style signs featuring "Family Rules" or a list of street names and landmarks from major cities.
But on Etsy, you can find sellers who will help you create your own. If you search Etsy for "custom subway signs" or "custom signs," you'll find a ton of options and many sellers will let you fully customize the design of your sign as well as the text.
I love this sign commemorating a big anniversary, and this one listing favorite travel locales:
And here are some more ideas for things you could do:
Your own list of "house rules"
Lists of street names/addresses where you've lived
Special dates
Words that describe a loved one
Cities/towns you've lived in
Favorite quotes
Favorite places in your city or hometown or college town (names of restaurants, shops, landmarks, etc)
These signs come in all price ranges. Some are simply printed on paper to be framed, and others are hand-painted on wood. All you have to do is come up with the content for your sign, and you'll be able to find a designer to make whatever you'd like.
5) TICKET STUB KEEPSAKES
This is for anyone who has a sports fan, concert-goer, theater-lover, or any other sort of ticket hoarder in your life. My husband is an admitted ticket hoarder, and he usually "saves" his tickets by laying them on a countertop until I threaten to throw them away, at which point he puts them in a random box or drawer until I discover it and threaten to throw it away again.
I bought him this ticket scrapbook as a gift a few years ago:
And he thought it was really cool, but he has yet to actually put his tickets into it. So I found a lazier way to store tickets: a ticket stub memory box!
You can either buy one already made (Etsy has a ton of great options for these, too)...
...or you can make one yourself. Basically all you need to do is buy a shadow box frame, cut a slot into the top (that would be the hardest part) and create an image to put in the background. Here's a tutorial that shows you how.
I've run out of room for one post, so click on over to Part 2 of my gift guide for 5 more awesome ideas!